Annnnnnnnd we're back! Our servers made some mistakes yesterday (burpees instead of squats…tsk, tsk) and had to be put in timeout for half a day. Some unplanned maintenance later by our men in Berlin, and the ISIS mainframes have been upgraded with new neural net processors – learning computers – and our R2 is back on our 6, by the light of Kate Upton's eyes. Bueno? Bueno.
So, let's get back to business. This week, we had a post about Iris's strength journey. AC taught us how to press more gooder (this was real, real popular on reddit). Markotta had us reflect on our motivation. Mike used the time off from reading the site to ignore Paul's question and answer everyone else's.
Additionally, USAPL Collegiate Nationals is this weekend in Killeen, TX. There's going to be some pretty impressive single-ply lifting going on, and there are some fierce rivalries between teams. Naturally, I think Preston Turner, Ian Bell, and the rest of the Longhorn Team is going to take the cake, but watch and see for yourself.
http://mass-lift.com/2013-collegiate-nationals/
Last week, I asked you guys and gals to submit pictures of your "70sBig face." Wait, back up. First, I asked you to go back and re-read the original post on HOW to make a 70sBig face, and then to submit some examples. I got some great ones, and I got some that, well, I'm pretty sure were taken on the shitter in a time of duress  We'll get there, folks, but this might take some work. I appreciate the flood of pics I got, and will post some each week.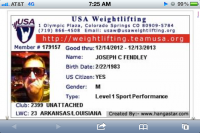 "Billy" (we'll use a code name to keep his identity a secret) sent in a picture that proves his commitment to the cause. He gets bonus points for the glasses, but the striped v-neck is hit or miss depending on yokeability. Guys, you can wear v-necks, but only if there's chest hair poking out, mmmmk?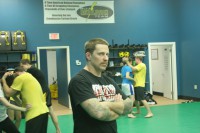 MeneGene spent the better part of the morning posing for this pic, showing off a pretty glorious mustache. There are literally ninja chicks beating up Abercrombie wannabee's in the background, and he is sitting there stoicly not giving a fuck. I approve. I think there's real blood on his shirt, too.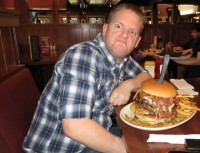 Jason lacks facial hair, but I'll cut him some slack. If he was sporting a ferocious Viking beard, half the grease from this amazing burger would go to waste. Is that HAM on that hamburger, too? Shit, now I'm hungry – with a few fried eggs on top, that'd be a pretty dece breakfast. Good job, Jason. Next time, cut the sleeves off your plaid shirt for date night. Trust me, she'll be impressed.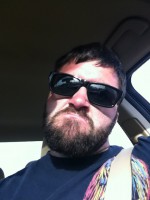 CriedTheFox shows us a classic selfie here, driving in some sort of van with "Free Ice Cream" scrawled on the side of it. Facial hair? Check. Cheap sunglasses? Check. Thrift-store t-shirt you're unafraid to rip in half in case of emergency? Check. Bravo, sir. Bravo.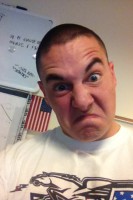 Blake's got a pretty dece face here. The bushy brows, the insane look in his eyes, and a 'Murican flag in the background are all excellent. A little more jaw-jutting would be nice, but HOLY SHIT there's a Mustang snorting FIRE on his shirt.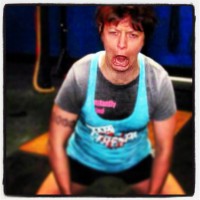 We didn't get nearly enough female face submissions, but Amanda played the game…sorta. She sent this in with the comment "No, this is not a 12 y/o boy but a 34 y/o woman." I…I….look, I really appreciate the pic, but I….well, shit. I'm scared. You took some creative licensing and the end result is equal parts terrifying and awesome. I award you all the points, and hope to never cross your (bar)path when you're angry.
That's all for today. Keep the submissions coming, make sure they are LESS THAN A MEGABYTE (you've seen what happens when our systems get angry), and I'll keep posting these on Fridays until I run out or get bored. Post your PR's below. Have a great freaking weekend. Stay safe.