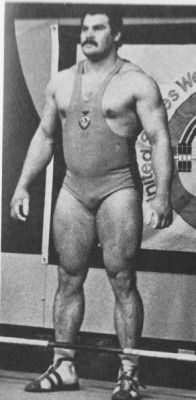 Anatoly Pisarenko was damn strong. He's also got a mustache. These dominant qualities make him a co-captain of 70's Big.

His career bests were a 206 kg snatch in 1983 (Moscow) and a 265 kg clean and jerk in 1984 (Varna) — this ties him for second overall for the highest clean and jerk (although world records say otherwise since old records were dropped with the restructuring of the weight classes). Pisarenko also had his personal best total in 1984 at Varna with a 465 kg total.


During his short career, Pisarenko broke 13 world records: 5 in the snatch, 4 in the clean and jerk, and 4 in the total of the snatch and clean and jerk (he lifted in the era after the clean and press was eliminated from competition). The Pizz won two USSR championships (1982 and '84), four European championships (1981, '82, '83, and '84), and three world championships (1981, '82, and '83).
Unfortunately Pisarenko lacks the fame of other successful weightlifters because he was unable to attend the 1980 and 1984 Olympics for different reasons. In 1980 he was not chosen to lift as a super heavyweight for the USSR because Sultan Rakhmanov  and Vasiliy Alexeev were heavier (150 and 185 kilograms respectively) and the favorites with a combined 79 world records. Pisarenko claims to have out-lifted both famous weightlifters in training whilst only weighing 114 kilograms, yet he was told he was not ready (he was only 21 years old in 1980). In 1984 the USSR held out of the Olympics. It must have been difficult for Pisarenko to see Dean Lukin of Australia win the gold with a total of 412.5 kilograms — a whopping 50 kilos less than what Pisarenko was capable of!
Pisarenko was disqualified for two years and decided to end his weighlifting career. It was time to make a living now that he was an adult and had a family. It's sometimes hard to realize that Pisarenko was only between the ages of 22 and 27 during his lifting career — the mustache and build make him seem much older. He reported that he would have been ready for a 210 kg snatch and potentially 280 kg in the clean and jerk! In training, Pisarenko clean and jerked 270 kg for a single, 260 for a double, and cleaned 280 — impressive numbers for anyone, but especially since his bodyweight always hovered around 125 kilos.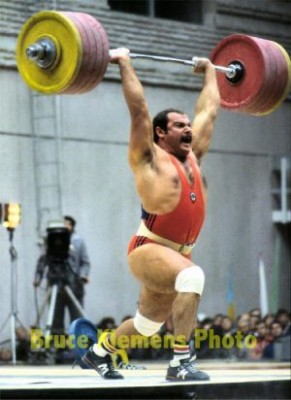 Despite his lack of Olympic success, Pisarenko was still an impressive lifter. Big. Strong. Mustache. He sets the standard for 70's Big weightlifters.
Sources:
Lift Up — a fantastic site that chronicles the history of Olympic weightlifting