Today's article is courtesy of Jackie. She gives us an honest and frank look into her story of going from a gym-stud to fresh meat on the platform, with a little prodding from her coach. More importantly, it's easy to see just how much the work we do with the barbell effects our outlooks in the rest of our lives. A huge thanks to Jackie and her coach Chris for bringing us this story – keep 'em coming, folks! – Jacob
When it comes to training, I have had some significant personal accomplishments. Deadlifting 300lbs, pressing the 24kg kettlebell, 32kg Turkish Get Ups, and repping out pull-ups have all been exciting feats. But I must humbly confess that these have all come relatively easily to me. Which begs the question, what am I capable of if I really applied myself? I've never really found out the answer, but it's a question I hope I never stop asking myself. As a recovering fitness trend-junkie, in addition to a stubborn Italian (which is more of a character asset if you ask me), I have always struggled with training "ADHD," and I occasionally relapse back into old habits of over-training, under-eating, lack of mobility work, and training with the purpose of vanity. This resulted in disturbed sleep patterns, inevitable injuries, mood swings, apathy and boredom. This is a lesson I have learned all too many times, and am frankly sick of getting beat over the head with it (if you've met my mentors, you would understand I mean this both figuratively and literally).
The truth is that I haven't ever really worked hard for something. I mean, really worked for it. To clarify, I have applied myself in school, work, relationships, and I do have experience setting goals and meeting them. Yet, the goals I set were mediocre at best, and easily attainable. To be even more candid, if I did ever set a high standard that would require some serious dedication (which was rare) I would usually quit. Give up. Just like that. If it wasn't executed perfectly, exactly as I expected, it was over.
But to work hard, hours on end, sacrifices, compromises, losses and gains and more losses, all for something that looks and feels so far away, and promises no guarantees? Nope. Never really knew what it felt like. I've been one of those people who would back out in the middle of a winning streak for fear of losing face, who would "stop while I'm ahead," who wouldn't pursue something because it would entail some serious effort and risk failure. I have been this person, this way, for most of my life. Which, ironically, isn't really living it all.
For two years now, Chris Falkner, coach for Tucson Barbell, has been fighting to get me into Olympic lifting. While I did play around with the idea and techniques, it just seemed 'too hard' to actually commit to. Recently, however, life threw me a couple of curve balls, leading me straight to the platform. After feeling uninspired for so long, it became the only place that I could seem to find the solace and serenity that seemed so absent from my life.
Spending 1-2 hours, 5-6 days a week, for 3 months (and counting), focusing on the same movements and techniques over and over can be very humbling. You fail… a lot, and start to discover more about yourself and your "limits." You can't afford to use any energy on giving a shit about what you look like, what people think of you, or, God-forbid, getting "bulky." The goal becomes the focal point, and it's amazing how your perspective changes when you do finally wake up. It's like seeing everything for the first time… finally. I remember watching my coach in his training session one day. I had seen him lift before, but this time I saw it differently. Before approaching the platform, he stood back for a few moments, almost as though he was paying his respects. There was complete silence, no music, not talking. It was just him, the platform, the bar, the weight and the passion to become better. Everything he would talk about, in that moment, had finally started to make sense.
A few days before the Grand Canyon Winter Open in Phoenix, AZ, Chris had suggested I register as a participant. Immediately I got flustered and scrambled to find reasons not to. 'I'm not ready.' 'I have too much homework and a test to study for.' All euphemisms for: 'I am a chicken shit.' Chris did what he does best and called me out, and I was fuming. (You see, when people other than myself are right, I get pissed.) I decided to do it, even if it was mostly out of spite.
At 5:30am on a Saturday morning, I braved the 2-hour drive, in pouring rain on Interstate 10 (which is scary as hell) to participate in my first official weight-lifting meet. Already sleep-deprived from the nerves the night before, I spent the entire two hours talking myself into going and not turning around back towards a warm bed. I weighed in, warmed up, and it was time to lift. The gym owner was explaining the rules, and I honestly don't remember a single word he had said, I was so preoccupied. My hands were shaking and I had to remind myself to breath. But I remember finally setting foot on the platform and having the visual of coach training, and my teammates. In the moment before, I suddenly stopped giving a shit about anything other than the lift. In the moments between, I was too busy admiring the other girls' lifts and paid no attention to the adrenaline rushing through my body. I ended up hitting all three of my snatch attempts, setting a new personal record at 47kg. I landed two attempts of the clean and jerk at 60kg and 64kg, and missed my last one at 67kg. Three of my teammates and I qualified for University Nationals in April. It was an amazing time, and I learned an invaluable lesson. The experience wasn't about hitting numbers higher than the next girl, or having the best technique, but to work hard and compete with the older, weaker version of myself.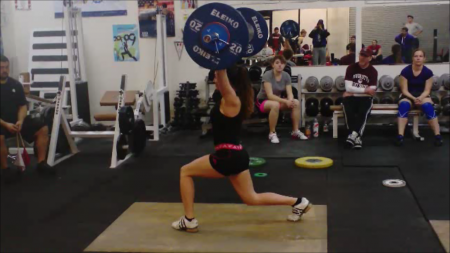 In the days following the meet, I have felt more confident in my training and technique. The gym has become a refuge and I count the minutes until I get there. I realize my numbers aren't necessarily the most impressive. I am a little fish in a rather large pond and I acknowledge the cards are stacked against me ever becoming the "best." But as long as I show up and am better than yesterday, I've found my calling.