Fridays are an opportunity to reflect back on the week here at 70sBig. We look over the posts as a community, but we also look back as individuals – at our training, nutrition, and recovery.
I'm trying to bring back "Ladies' Mondays," and had a great opportunity this week with Bert and Marijke, his lady friend, as they talked about her introduction to heavy lifting, and her growing love of Powerlifting as a sport. This coming Monday, I'll share with you Bert's recap of her first meet. Spoiler alert: She kicked some ass.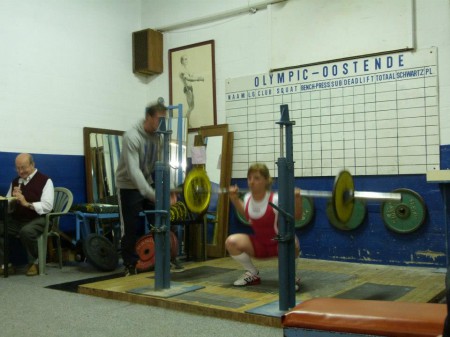 On Wednesday, Aaron's 2nd post on the site proved to be a huge hit, and an inspiration for many of us. Justin has often talked about how any motivated man can squat 405. Aaron's post told us about how he did more than that…102 days after breaking his back. He got a little reckless, sure, but isn't that what this site is all about?
How reckless did you get this week? What PR's did you smash? If you didn't, why not? How's your nutrition? Did you make it a point to get 8 hours of sleep a night? Did you stretch? Did you follow your program, and log your work?
You guys know RoryT. He competes as a 181, and is a dream to coach. I've written about him on the site before, but in the spirit of PR Friday, I thought I'd share this video of his squats last Saturday, when he DEMOLISHED 460 for 7 reps, for a dece PR.
In case you missed it on twitter and facebook, here's our own Mike B discussing some important meet strategies. He'll be at the Arnold again this year, competing alongside Big Chris, Matt Nolan, and AC, and over the next few weeks, we'll be discussing that quite a bit more. You can also follow along with his log (and the other fellas') at the top of the page.
Matt Nolan hit a PR this week – he pulled 657 for a triple as he prepares for the Arnold. Must have been the shirt.
Talk about your PRs below. Update us on your status, and when your next contest is. You have committed to a meet of some sort, haven't you? You think these guys got this awesome without competing? Your friends are tired of seeing you post PRs on your facebook page, but the 70sBig community cares. Except Brent.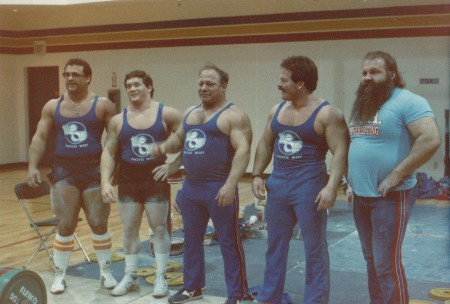 In fact, I liked this pic so much I made a replica of Doyle Kenady's shirt. You can ogle it, and even buy it, at my LiftHeavyShit store.
That's all for today, folks. Next week, we'll not only have some updates on Bert and Marijke, but we'll also have an article or two on training the posterior chain (including Weightlifting-specific advice), and some really awesome historical stuff that I'm putting together, including pics similar to the one above, but even cooler. You're welcome. Keep the reader submissions coming, too – I have a few, but the more I have, the more I can share. Have a great weekend – Get Big.