Last year I talked about how I got sick of eggs. I've been eating at least three eggs a day for about five years, so once I ate six a day in early 2009, it became monotonous. Eggs are a fantastic food complete with necessary protein, fat, and vitamins. They're pretty cheap and can be prepared in different ways, so you can't really afford to not eat them.

About a month ago, I watched Chris eat a plateful of plain, scrambled eggs. It was quite a chore. The next week he called me and said, "Dude, I almost threw up eating my eggs." It kinda sucks eating the same thing every day, but he was plodding on because he knew how beneficial they were.

Well, suffer no more.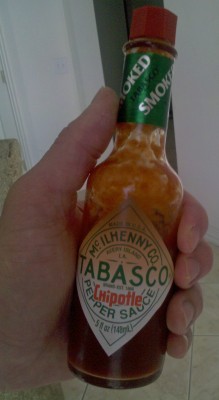 You may have tried Tabasco sauce on your eggs, but now you need to try Tabasco Chipotle. The first time I had this stuff, I had it on a 14 inch double meat and double cheese philly cheesesteak. I experimented with it on my eggs, and I was pleasantly surprised. Bland scrambled eggs become wildly delicious and I crave it every morning. I'm surprised at how fast I wolf my eggs down now, especially because I had to force them down until I discovered this gem. If you're getting sick of eggs, give them a nice dousing with Tabasco Chipotle.
———-

Here's a shout out to my buddy Ben in Sacramento, CA. We competed at nationals together and he placed sixth overall. He recently competed earlier this month and finished with 138/162. Ben competes with Paul Doherty's Hassle Free weightlifting team. In this video, he snatches 145kg and clean and jerks 165kg. Nice. I'm hoping to train with Ben when AC and I are out in California in a couple weeks.