Robert Oberst is a Professional Strongman that recently represented the U.S. in Sanya, China at the 2013 World's Strongest Man. Official results are not available, but remember, Google is your friend…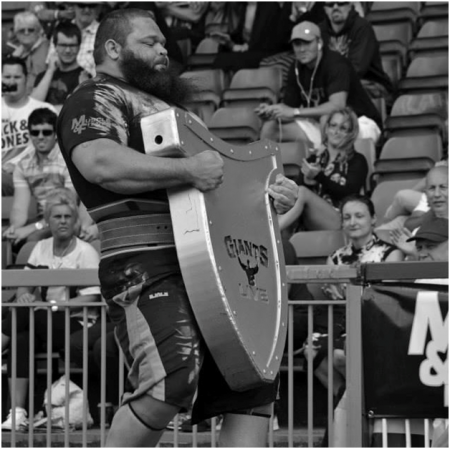 Mike: Tell us a bit about yourself.
Robert: Robert Oberst, 28 years old, 400 lbs, 6'8", and I was born and raised in Santa Cruz, California.
Mike: Have you always been into strength sports? (you look like you may have played football)
Robert: I got into strength sports a little less than 2 years ago. Before that I played football for what seemed like FOREVER!!
Mike: How did you get into strongman?
Robert: I first got into strongman through my buddy Evan. We were working security at a bar together and it's all he'd ever talk about so I decided to try it with him one day and LOVED it.
Mike: What kind of training split do you have between gym lifts and strongman events? And what are some of your PR's?
Robert: My training split is pretty normal. 3 days in a regular gym and one long day of events, but when I was training for worlds I did an extra day of events. As for PR's, you gotta sweat in a gym with me to get that info.
Mike: Where do you train? Do you train alone, with a steady group of people?
Robert: I train at a local gym in Hanford, CA and do events at my or a buddies house. Just recently my dad retired and is at all my training sessions and I usually have at least one more guy, my buddy Aram.
Mike: What is your diet like?  
Robert: Nathan Payton does my diet and it's basically a lot of clean protein. I eat 3 1/2 pounds of meat a day. If you wanna know what else I eat you gotta ask Nathan.
Mike: You've risen pretty quickly in strongman, what do you attribute that to?
Robert: There are several reasons I've risen so fast in the ranks of strongman. Obviously I work my butt off. You've gotta earn it cuz it won't be handed to you. I also have the greatest support anyone could ever ask for. My family is obsessed with my success and always willing to do anything to help including supporting me when nobody else will. My wife has been stronger than I can ever dream to be. She takes care of everything and never slows down for a second. She's so supportive and involved that she has more nervousness for shows than I do. When a show ends it takes her longer to recover than me!
Mike: Other than winning World's Strongest Man, what are your goals in the sport?
Robert: I haven't set super high goals for now. All I want is to be the strongest man who ever walked the earth.
Mike: If you could give any advice to anyone wanting to turn strongman from a hobby into a lifestyle, what would you tell them?
Robert: There's too much talent now in this sport to half ass it, so if you aren't sure or you just wanna do enough to look cool online DON'T cuz you're only in the way.
Mike: What percentage of your power comes from your beard? In a one-on-one fight, would your beard defeat Andrew Palmer's?
Robert: I'd say whatever power doesn't come from my family comes from the beard. Easily 40-50%. My beard has been taking Andrews beards lunch money since it was a 5 o'clock shadow!