Guys, Gals, other weirdos – Justin and I had a real, real busy week watching Hot Tub Time Machine on repeat. Hopefully you found a better way to occupy your time than to read Brent's MopeWOD. Odin, I hate that site.
Don't worry –  next week we have several meet reports from various readers that I'll post, complete with PRs, pics, and people totalling (psst – I used 2 l's in that word to amuse myself and vaguely reference a certain Canadian – Canadians spell stuff funnily). I have had a couple requests for topics to write about, so, like, I can do that, too, and of course, Justin's getting back into the swing of things, and will soon be responding to all your love letters. We'll get some more stuff up soon, but in the meantime, spend more time getting your jacked and tan on. It's summer!
In the meantime, this dude, Noah, sent in this pretty legit 70sBig face submission after his first successful 300+ squat with the following quote, which is fucking awesome…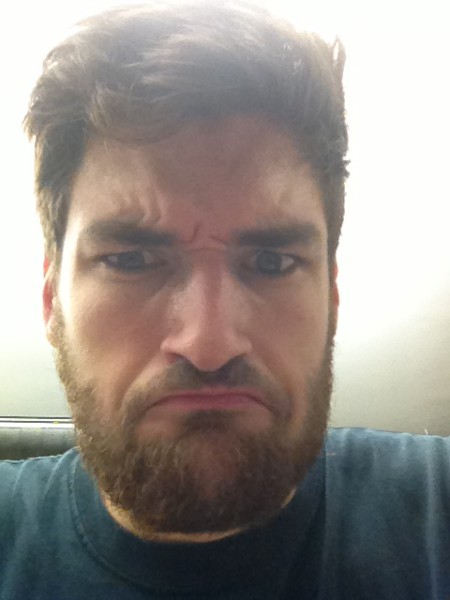 "Broke 300 on my squat after growing the beard. Not saying it's directly attributable to the beard, but it 100% is."
He later tried to backtrack, saying it wasn't deep enough when he looked back at the video and that I shouldn't post the pic. Guess what? I don't give two shits – I'm posting the pic. Good job, Noah. Yes, you can bury it next time, but give yourself some damn credit. You went down with 300 for the first time, and came back up. This is not to be ignored. You can get 3 whites at your next meet. Don't try and backtrack! Own it. You now owe the entire 70sBig community a 300lb squat to depth. Wait, no – actually, now I'm kind of pissed off, and you owe us 8 Acts of Contrition (directed towards Mr. Doug Young, naturally) and a 315 squat to depth. I'm expecting the video within the next month. Do you see what happens, Noah? Do you see what happens when you fight a stranger in the Alps?
That's all I got today. I'm really looking forward to posting up these reader submissions next week – nothing cranks me up like seeing folks competing and kicking ass. If you have a cool story, submit it. If not, just comment below and let us know how much stronger you are than last week. That's pretty cool, too.
Finally, you can laugh at me coming as close as you can possibly get to finishing a deadlift and NOT QUITE GETTING IT at last weekend's Hyde Park Gym Push/Pull meet. 585, you motherfucker: You will be mine. You.Will.Be.Mine.