Weekly Recap: AJ Loreto pulls more than you, has a boat, and said you should do some sumo work, fool. I suggest you try it. (I'll get a post up on coaching basic sumo form next week.) I went ahead and laid out some basic supplement and nutrition advice. A few people loved it, some people hated it, but the bottom line is this: you better be eating some steak and kale this weekend. AC benches more than you, and showed us his bench setup (and sweet shirt) after teaching us some press tips last week.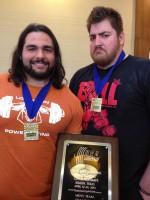 Last week, I told you to watch the USAPL Collegiate Nationals. If you didn't, you missed out. Here's an excellent write-up on the Men's sessions. A huge congrats to my buddy Ryan Carrillo for winning the SHW division with the final pull of the meet. Preston Turner, world champion and fellow hair farmer, destroyed his competition (not only did he open with an American Record Bench, he then worked up to 716 pounds), and Ian Bell won his 3rd Gold in a row – even though he was pulling after midnight (Saturday was a long day)! I also have to give a shoutout to another friend from my gym, Joe, who  benched 195kg…in a t-shirt! I have to say, TX lifters pretty much dominated the show, to nobody's surprise. Congrats, y'all.
Mike quotes Gremlins, answers some questions, and gives Stroup kind of an evil eye.
I'll keep it short, because we have a shitload of reader pictures this week. I appreciate you guys sending in your photos and will keep putting them up on Fridays 'til we run out. It's gonna be awhile, so be patient.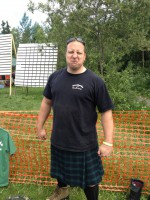 First up: Rob. Rob's wearing a kilt, so he gets bonus points for that. He's also got some sort of hiking boots on, and that orange fence might be a police scene…so we'll just leave the minor critiques of the actual 70sBig face alone, mmmk?

Elliot sent this in from Afghanistan. Thank you, Elliot.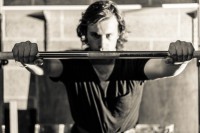 Cal may or may not be performing any aspects of the traditional 70sBig face – it's pretty much hidden by what looks to be an Eleiko bar. Cool pic. And he's from Oz – bonus points.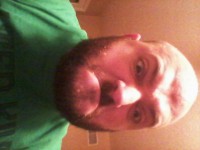 Matt's face uploaded crooked. I was gonna fix it, but honestly, it just kind of amuses me having it this way.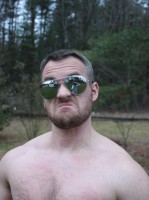 "Blister" wins this week's points. He basically looks like he could be Justin's little brother, except he's probably too smart to be a Browns fan. This, folks, is a 70sBig face submission. Shirt? NAH. Creepy aviator glasses? YUP. Random field and forest and trap flex? DUH. Fact: He chainsawed some shit after this pic.
See ya next week, folks. A special shout-out to my lady friend, who is competing at the USAPL TX State Championships this weekend in San Antonio. If you're around, I'll be coaching her and a couple other lifters, so say howdy, damnit. I'll be the one with the beard.