Today I was at a loss of what to write about for the female post. I've written about how society negatively affects the body image of women and how lifting can help modify it. I've written about how the gals who do lift can set a good example to try and encourage non-lifting women to try it out — or get their friends in the gym period. I've written about how guys can convince the lady friends in their lives to train and explain why "doing cardio" is futile, irrelevant, and inefficient. I've written about programs, developing a pull-up, correcting mechanics, improving muscle imbalances, and what to do if a girl cries in training.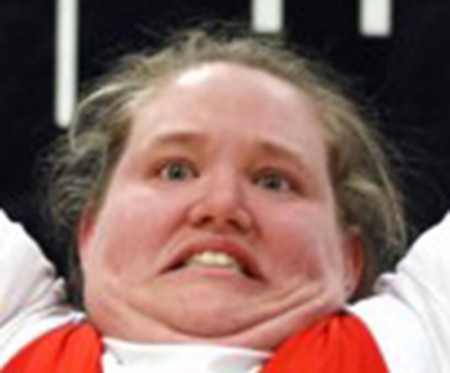 One thing that I haven't written about — something that I've made it a point to avoid — is how I think publicizing overtly fat female athletes does more to hurt their sport and athletics than to help it. The first person that comes to mind is Olympian Holly Mangold (right).
I don't know Holly Mangold. I'm the first to say that the picture I chose for the post couldn't be worse, but this is what girls of all ages see. I've seen this exact picture all over the internet mocking Holly, weightlifters, lifters, as well as being used as in "fat girl memes". Most women don't see this picture as someone who is near the pinnacle of lifting, but someone who looks grotesque. Lifting already has a bad enough stigma, but then you attach this face to it and I can hear the teenage girls (who actually exercise) run to the celebrity waif trainers.
To make matters worse, MTV — the shittiest network ever — did a special on her over a year ago (I'd link it but I refuse to give them clicks). This solidifies the idea that "weightlifting" and "fat" are synonymous. It doesn't matter that we know this couldn't be farther from the truth, but it doesn't matter what we think. What matters is that the anti-lifting dogma is only made worse. Imagine every asshole personal trainer telling their new female client, "You don't want to lift; did you see that big girl at the Olympics? Do you want to look like her?"
Sure, Holly has athletically accomplished more in four years of a sport that everyone — including me — could only dream about; she qualified for the Olympics and placed 10th in the world. But my focus is on the big picture. Yes, I think Holly is abhorrently fat. No, I don't think she should die because of it. No, I don't want her feelings to be hurt, but I also don't care about her feelings. She's an Olympian now, and that means she's been awarded with the fact that she is a role model whether she likes it or not. Her physique is not necessary for her performance and she will do more harm than good to the sport of weightlifting — and lifting in general — by failing to do something about it.
This isn't just my opinion; it's how society works. We are all judgmental assholes. We judge personality on outward appearance. There's so much sensory and data input in our lives that we wouldn't be able to function if we didn't do this. If anything, it's a necessarily selected trait in order to function and survive in civilization. Besides, you can't look me in the eye and tell me that a 17-year-old girl is not going to have a negative view of female weightlifting after watching Holly's MTV special. Ptsh, you couldn't even truthfully tell me that the teenage girl would have a neutral view of it. If I'm wrong about society, I'm definitely not wrong about a shallow air head who watches reality TV.
The good news is that it's not like Holly can't do anything about it. She's an Olympian. She should have the capacity to set her mind to a goal, work towards it, and achieve it. She has the ability to tighten her diet and training regime and come into the 2016 games looking svelte and hitting PRs. It's not like I expect her to compete as a 75kg/165lb lifter (the second heaviest female weight class), but there's no reason she needs to weigh 165kgs/363lbs. And if she fails to do this again (she's tried in the past), then she fails female weightlifting, exacerbates the image of female lifting, and further poisons the misconception of female body type and legitimate training methods. I'm rooting for Holly Mangold, but it's solely on her plate.