In "Q&A – 43" I asked readers to perform as many manly deeds as possible to win a 70's Big shirt. They were pretty interesting or amusing, so I thought a separate post would be good.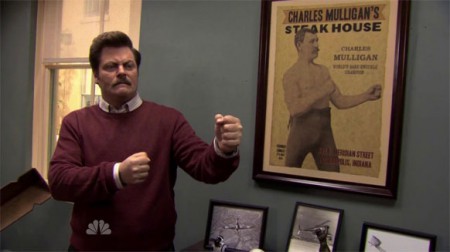 scants on September 25, 2012 at 2:31 pm said: 
Manly Deeds:
– completed week 27 in Kabul, Afghanistan
– ran 10kms in support of the Soldier On program (for wounded troops) and the Canadian Army Military Families Fund (I DON'T run but it's for a good cause…the choice was 5 or 10 kms and I didn't want to be a pussy and take the easy route)
– passed my Blue Stripe test in Taekwondo.
– ate chicken fingers for breakfast yesterday.
– got a runner to start lifting.
– after a 4 month layoff from bench and pulls due to something broken in my hand FINALLY was able to start back at it…
cfitz on September 21, 2012 at 4:25 pm said:
Manly deeds: carried boxes of books for a teacher, created sucrose solutions of varying molarity for bio teacher(manly?), helped my elderly neighbor move junk out of her house, spread training knowledge, snatched 205 and cl and j 245 at 190 bw 3 weeks after starting Olympic lifts, and finally my highschool lacrosse coach officially dubbed me "the beast" and said I look like a man playing among boys.
Maslow on September 21, 2012 at 5:47 pm said: 
Manly deeds: 1) completed navigation and tour of the California coast with my new wife in a rented mustang convertable. I'd never been there before and neither had she. Most days I wore short shorts, except for when it was too cold I wore pants similar to vietnam-era BDUs. One day we completed a 10-mile loop through a state park in Big Sur covering stunning beaches, mountains and redwoods, all without a map. I mean I looked at the map at the entrance, then went with it from there. I didn't want to leave. During this time I grew a beard as a place holder so that I could have a mustache (not really possible to grow a mustache solo IMHO). Day 10 I shaved the beard with a shitty disposable razor and left the mustache. When I got home my electric shaver was packed in a moving box so I shaved 18 days of growth off of my lip with a dull disposable razor. 2) This morning I noticed one of my chest hairs almost touches one of my throat hairs. They day the two sections legitimately merge will be nothing short of monumental in my life.
suzymac on September 21, 2012 at 11:07 pm said: 
Went for rep PRs this week after 5 solid weeks in the 1-5 rep range.

Stats: female, weight just under one fiddy

DL: 10 @ 215 (clean grip)
Also did 285 on rack pulls which is relatively new in my lift rotation.

BP: 10 @ 100

And used 135 for snatch pulls from hang position.

And my manly acts (even though I'm a girl) this week were:
Mowing the yard…twice
Having the balls to drop in unannounced on an attorney I'm trying to get a job with
Rescuing a teenager getting crushed by his bench press fail
Rejecting post-coital cuddling by shutting off the lamp and saying "no more touching".
Watching hours of war documentaries

Currently recovering from all my pr's and manliness with red wine, chicken thighs and roasted beets.
And finally, the winner of the Manly Deeds Contest
taedoju on September 21, 2012 at 4:49 pm said: 
deeds:

– helped to move my friend
– i helped em…not totaly normal girl which is overweight with exercises, she takes care of mentally disabled people (she kinda is…well in that team) but wanted to lose some weight and get more social with people, i will take care of her for some time. she can squat now, yet she doesnt quite now why she should, but we are working on it : ) it's hard to comunicate with her, but im learning to.
– i took my friends with their girlfriends to the gym . and thought them all to squat, soo 4 people more squatting:D girls loved it. that's all, not quite a lot..
Basically taedoju is saying that he helped a mentally handicapped girl in the gym. My older brother is mentally handicapped and I grew up around a lot of handicapped kids, therefore I have a special place in my heart for them. Most people are afraid to approach them since they are different, but they typically really enjoy interaction with people. Taedoju wins the manly award for going out of his way to communicate and help with the mentally handicapped girl; it's a really kind thing to do. The kind of thing a man does.