I'm getting sick of the runner's narcissism that permeates throughout life.
"You mock marathons because you can't do one!"
That's such an 8 year old mentality. I cringe whenever I see the "26.2" stickers on car windows; it's just a participation sticker. I went to kindergarten too, so I guess I understand their pride. You don't see anyone putting a "500 lbs" sticker on their window, but if they did it would make more sense. After all, being able to do anything with 500 pounds requires some sort of development. There's a huge portion of the population that will never understand what 500 pounds feels like. On the other hand, a huge percentage of the population can complete 26.2 miles if they gave enough of a shit. You can even walk part of it! It's not that impressive.
I'm almost tempted to go do a marathon to prove a point, but, oh yeah, I don't care.
Marathons aren't even practical. If you need to run over 20 miles to avoid something, you can probably avoid it by walking. Or you would have died already. In fact, the storied hero Pheidippides dropped dead after completing his "marathon"! Even if this story was real (it isn't), it's not near as impressive as what actually happened.
The Persians were planning an attack on Athens by landing 24 miles north along the coastal plains of Marathon with an army 80,000 strong. The Athenians only had 10,000 infantry to deflect such an attack. One Athenian leader, Miltiades, had big coconut sized balls (equally hairy, no doubt); his idea was to march their asses straight to Marathon and fight the Persians at the pass. Everyone realized it was either a) get their asses kicked or b) try and have a Leonidas moment (which wouldn't happen for ten more years, but stay focused). The Athenians marched up to Marathon to find 80,000 assholes camping in the plains.
"We are so fucked," the Athenians thought. A few days later they got word that the Persians slipped off into the night to sail the bulk of their army down to Athens. They only left a 15,000 strong holding force. Miltiades, that guy with the gigantic balls, said, "Good," and let everyone know that it was clobberin' time. It would take the Persians 10 to 12 hours to get to Athens, so if they whipped some Persian ass and then rushed back home, they should have time to defend their wives and children. While some of the leaders pleaded to wait for the Spartans to get there (which was not a certainty), Miltiades whispered, "We attack at dawn," and then he put a cigarette out on his own arm to prove a point. Okay, that last part may not have been true.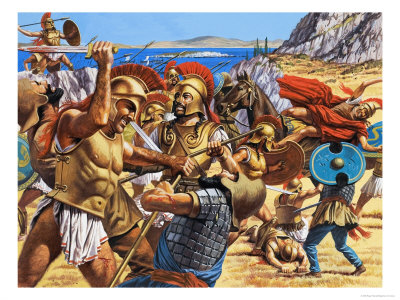 "Oh, how I love the smell of blood and carnage in the morning," is probably what Miltiades said when the battle ended at 9 AM. After three hours of fighting, the marshy water ran red with Persian blood. The Athenians lost fewer than 200 men.
Now imagine this. You have been strung out for several days at the though of your entire way of life being annihilated. A Persian victory would destroying the Athenian government, sell your children into slavery, and rape your wife countless of times. After days of this prospect, you finally unleash fury in a three hour battle. All of that pent up emotion has been wrought down on your foe, but as the final battle cry of victory ebbs away, you think of your son back home, sitting in your wife's arms. Your dog sits with them wagging his tail. And those Persian fucks are on their way to kill everything you love.
"Ruck up, boys, we're headin' home," Miltiades said followed by swigging straight whiskey. The Athenian soldiers had 7 hours to travel 24 miles in full battle gear. Armor, weapons, and rations. They pounded home as fast as they could. Imagine the pain of each step with their blistered feet. Imagine the fatigue their bodies felt. Imagine the fire in their bellies knowing that every second counted to protect their wives, their children, their city. At 4:00 PM some of the Athenians crested the cliffs facing the ocean where the Persian army was  arriving. After seeing those fierce Athenians caked with blood, no doubt flashing their asses and clanging their shields, the Persians thought, "Uhh, this probably isn't such a good idea, mmkay." Deuces.
Now that's a fucking story. That's an athletic event worth emulating.