PR Friday
As always, post your training updates and PR's to the comments. I like reading about your accomplishments and the things that have helped you get better.

70′s Big-wide goal for next week:
DON'T SKIMP ON YOUR MOBILITY. Do something every day. If you are successful, then let us know in next week's PR Friday.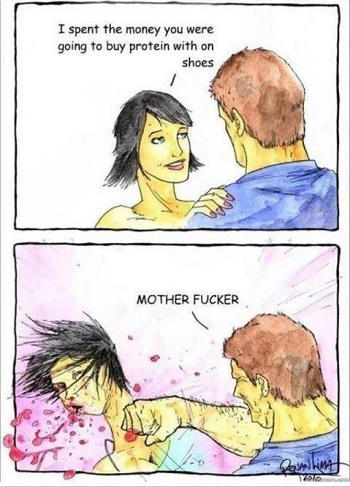 Weekly Recap
Monday I gave you a tasty recipe, and readers dropped some of their favorite slow cooker recipes in the comments. Tuesday discussed how CrossFit favors the anterior chain and it'd behoove a CFer to do some extra posterior chain work. Wednesday we talked about the Slingshot again; I think it can be a nice tool even for a raw lifter. Thursday was a post on the possible short film "The Artist & The Olympian".

Here are two stories that actually recap the week. Wednesday night I was training with my friend Mike (not big AF Mike, Asian Mike). He ended up leaving the gym around 8:00 PM, so I was hitting some dumbbell hammer curls by myself. There was no one else in the free weight section, yet there were some girls using a Roman chair about 30 feet away. I was doing the last set, really cranking them out, when I suddenly and audibly farted. When I was younger, I might have been more concerned. In fact, I remember accidentally letting out farts in class and being absolutely horrified. It was an immediate shot of adrenaline; all my senses would sharpen and I'd just wait for someone (i.e. girls) to acknowledge it. THEY NEVER DID. I'd play it cool. Hey, it wasn't me that farted, must have been that skinny kid with the lisp. I had a reputation to maintain. The kind that don't fart in class, son.

Anyway, I look up to see if anyone heard me fart. Either they didn't, or they did and pretended not to hear. So I continue hammer curling the 50s. Then ANOTHER fart escapes, yet this one was louder. I only have a few more reps, so I try to continue, but I can't because I'm LAUGHING TOO HARD. I'm by myself laughing at my own farts, and I couldn't finish the set. I racked the dumbbells, called it a night.

Fast forward to Thursday evening. I'm walking out of a shopping center where I got my hair cut. I'm wearing gym shorts, a tight T, and flip flops. I'm walking by two black ladies in the middle of the street. One of them is around 40. She stops in the middle of the road with her hands on her hips, looks me up and down.

"DAMN. You is SO sex-AY!"

After thanking her and laughing, I realized that some guys might think that this encounter was a result of the hammer curls they did the night before. NOT SO FAST, MY FRIEND. It's because I've squatted twice a week for as long as I can remember. It's the pressing, the cleans, the snatches; the lifting. It's also the mobility work, the attention to nutrition, the sleeping, and the hydration. It's the icing and rest days. It's everything.

Moral of the story? Black women know what's up. Or maybe this is the pinnacle of all of the work I've put into training. Regardless, if you want to be approached on the street, then get your shit together. It'll help if you move to the south. And a low income town.

What else do you guys wanna talk about?