Jake Briskin has asked me several times to do a post on Marilyn Monroe. I think the real reason is because he has a fetish with "black and white" realities. Sorry, Jake, the world is full of color.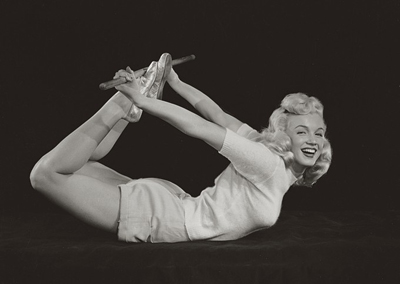 Marilyn Monroe was one of the first sex icons in modern American culture. It's been said that she was a "tomboy" when growing up because she liked to run around with the boys and compete. She ran, swam, and played softball. However, later in life she established two unconventional habits: she exercised with weights and ate a "high protein" diet.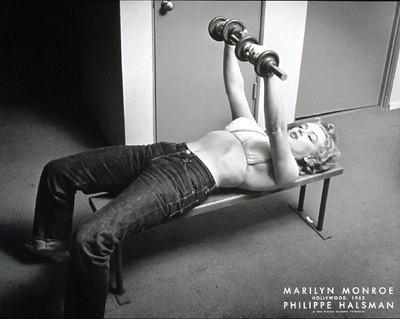 CONTINUE READING

These are pages 120-121 from the September 1952 issue of Pageant in which she was interviewed on her exercise, sleep, and eating habits. She primarily exercised to maintain her figure and utilized calisthenics and light dumbbells.
(links SFW, some have Marilyn wearing short shorts and stuff, so if you work in a church don't click?)
First spread
Second spread
Third spread
Fourth spread

From the second page spread:

I don't count rhythmically like the exercise people on the radio; I couldn't stand exercise if I had to feel regimented about it.
You heard it here: Marilyn Monroe popularized "intuitive training" AKA "not giving a shit".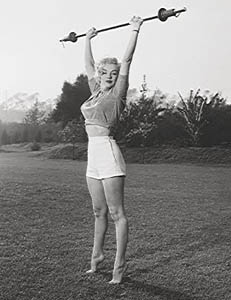 From the fourth page spread:

I've been told that my eating habits are absolutely bizarre, but I don't think so…
I start warming a cup of milk on the hot plate…
When it's hot, I break two raw eggs into the milk, whip them up with a fork, and drink them while I'm dressing. I supplement this with a multi-vitamin pill.
She also has steak, lamb chops, or liver with carrots in the evening. She also points out her ice cream habit that wouldn't be possible if her regular diet wasn't "composed of almost totally protein foods". It seemed so crazy at the time, but this is a great diet philosophy: high protein and fat with vegetables and fruit. Every now and then treat yourself to a splurge, but keep it under control. Exercise or train often. Marilyn Monroe was onto something good, and it wasn't just JFK.