When I walked into the gym yesterday, there was a group of guys in the squat rack doing upright rows and shrugs with less than 100 pounds. There was a lot of fist bumping. Next to them was a well-meaning kid doing half squats with weight most girls I know can squat to depth. Then I saw a guy exploring his 1RM nosebreaker without a spot (he barely survived). Later in the locker room I heard a guy who walks around like he's impressive brag about his whey protein, "It's got hydrolized and ionized whey in it. I can't wait to have my two shakes every day." I'm normally calm and under control, but these events made me want to flip out.

The to weak shruggers I'd shout, "YOU'RE NOT ACCOMPLISHING ANYTHING!"
To the nose breaker I'd shout, "WHY WOULD YOU HIT A 1 REP MAX IN THAT?"
To the protein braggart I'd shout, "DO YOU EVEN LIFT?"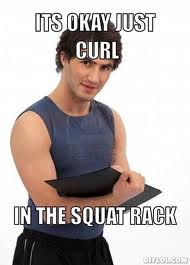 I'm sick of rear flyes, upright rows, and Smith machines. I'm sick of 30 minute elliptical sessions, half squats, and triceps extensions. Most of all, I'm sick of seeing people misinformed. I wish I could help everyone, but not everyone believes they need help. Coercion is a simpleton's game. What I can do instead is to make sure that you, the "well-informed reader" understand why you do what you do. In the event you're asked about it, you can effectively share this information legitimately. That two minute conversation will make or break your friend's acceptance of "training" instead of "fucking around".

CONTINUE READING
Strength training is the best way to establish a fantastic base of musculature because it uses compound lifts that induce an effective systemic stress in order to give the greatest return on time and effort investment.

The above statement could also say "strength training is the best way to train" since being strong and the process of obtaining strength are the fundamental capacity for all physical endeavors. The process begins with an emphasis on compound barbell lifts. The barbell is preferable over dumbbells because it can provide a greater stimulus due to the greater load as well as balancing the load evenly across both sides of the body (instead of demanding contralateral stabilization). Compound lifts like the squat, press, row, and deadlift utilize a large amount of musculature through a full range of motion (ROM). Using a partial ROM accomplishes nothing, kills puppies, and is the work of Satan. These full ROM, fundamental movements are the definition of "functional" in that they train all of the muscles and joints that could be involved in any bodily action. Every muscle is used in synergy with it's surrounding muscles to produce each movement efficiently. In contrast, isolation training isn't "functional" because muscles don't work solo when the body applies force to the ground or objects. When proper technique is used — and it's not difficult to learn — compound lifts are safe and efficient. Most of all, since compound lifts use the greatest amount of musculature, the muscles get the most work to get the most strong and can get the most big without extremely high levels of work.

When musculature is used at the cusp of it's capability, the fibers receive stress and are damaged. When large amounts of structures have just received a stress from compound movements, the neuroendocrine system is activated to heal and adapt. The hormonal response to compound lifting is much higher than both isolation exercises or a workout program to train a "body part" each day. This systemic response results in a heightened metabolism that, when compounded with a good diet, will effectively build muscle and lose fat. Aside from getting stronger, this systemic stress is strength training's greatest effect. It allows for the "bro goal" of getting "swole", the "strong goal" of getting stronger and more able, the "fat person goal" of dropping fat, and the "average goal" of getting the greatest return on time and effort investment.

Many fitness and physique programs include up to 30 sets for a given body part. A standard strength training program will have 9 to 12 work sets (not including warm-ups) in a whole training session. If the trainee caps their rest periods, this can easily be completed in 45 to 60 minutes. Compound barbell sessions will train the entire body, make it stronger, and apply a systemic stress that can't be achieved with conventional fitness training. High intensity conditioning accomplishes the same thing if the trainee wanted to add it in for improved endurance or aesthetics. Conditioning done with intensity can last anywhere from 5 to 15 minutes, and it's resultant adaptation is better than if the trainee had performed standard cardio for 30 to 45 minutes. Metabolism is heightened significantly after intense conditioning; much more so than "regular cardio". Strength training and high intensity conditioning provide the greatest return on the time and effort investment compared to conventional fitness or physique training.

The effect — the end result — that gym goers are going for can be achieved more quickly if they had an understanding of proper training and diet protocol. Unfortunately millions of people are fed the constant bullshit from the fitness industry and government. In the end, hard and consistent work will produce desired results, but effort would be better repaid if strength training became the foundation. Do not aim to travel the land in hopes of converting people to "the truth". Instead, understand why what you do is better and amiably explain it if the opportunity arises. Pay close attention to your own training so that it results in optimum performance and health, and you'll be an ambassador for smart, efficient training. Lead by example…and make sure your friends squat to depth.