Happy PR Friday — Post your training PR's and updates to the comments. You have about three more weeks for hard training before the Christmas and New Years break, so let us know what your goal is in that span.

Consultation inquiry asks:
Hey, when the hell are you going to consult with me?
Dear you,

I apologize for the delay. I've been trying to wrap up two big projects in the midst of doing the whole Thanksgiving thing. I'll be in contact with you soon, but it will be in order of inquiry. Thank you for your patience. I love you.

Hypothetical Question Guy asks:

Justin, what does the clean and jerk work?
Dear Hypothetical Question Guy,

Since I did 72 of them last night (31 of them at 300 pounds), I can give you a detailed and educated answer on what clean and jerks work. They work the skin of your hands primarily. They also work the skin of your upper chest and collar bone area. Speaking of the collar bones, clean and jerks especially work those. Don't forget about the skin on your thigh — they work that pretty good too if you're wearing short shorts and a tank-top (and you should). They also work on your will to live by letting you experience a case of "not fun" so that the next time you're when you're not having having fun, you can always put it in perspective and say, "At least I'm not doing (that) again." I think the military calls that "character building". Hope this helps.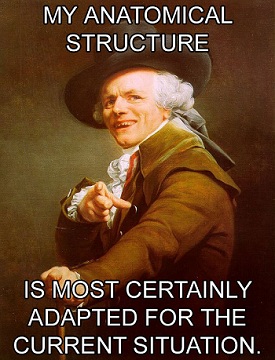 harveymushman asks:

Programming question twofer: It's been at least 6 weeks (maybe 7) since I've been in the gym (wedding, sickness, etc.) and by the time I get over my sinus infection it might be 8. I am/was still on the SS LP, so how much should drop the weights when I get back to training? Also, using the SS LP but with rows instead of cleans, how and when should I integrate curls and chin ups/pull ups into my routine?
Dear harveymushman,

Bro, you've commented on this site long enough to know that it won't matter too much. But since you're a regular, and I care about the regulars, I'll get crayola style for you.

Whenever people come back from a break, even if it's only a week (due to travelling, but especially when sick), I call for a light day. The light day should be manageable, since it's fucking light, and then the next workout can be medium. Then the next workout is either a medium or kinda heavy workout. This usually is a week of training (since it's three sessions), then the following week you can start with your previous or newly desired program. Don't get all hasty. It's like anal sex; ease into it.

As for the curls, they'll help you get back into lifting shape. I also find curls are good when you have a cold. And when you wake up and when you go to bed and before and after every meal. But if you're still worried about it, alternate the chins and curls every workout.

Andrew Ramirez asks via Fahzbook (that's how I say it in my head):

Hi Justin, I have what is probably going to be a dumb question (yes, I believe there are such things). Which muscle group does the power clean benefit? Granted, I am only power cleaning about 185 lbs but I do not feel a specific muscle hit like I do with squats, presses, etc.
Thanks
Dear Andrew,

A dumb question would be, "How many fingers will fit?" or "Should I use a condom?" (the answer is no). A good question is, "Did you see my butt? How was it?"

Maybe you didn't see my answer above on what is worked in the CJ, so make sure you check that out. If someone is actually jumping correctly on a power clean, they may get some residual hamstring soreness, yet this would only the case for efficient lifters (someone who can clean or power clean a high percentage of their max). For example, it's difficult to do posterior chain work (low bar squat, RDL, etc.) after I do power cleans or regular cleans because my hamstrings get worked on the second pull. The traps also will get pretty sore from the inherent shrug in the power clean too.

However, most people only lift a low percent of their absolute strength. This person may not get a whole lot of muscular work out of the power clean, but it will still a) work on your skill and b) work on your overall power production. Focus on having a snappy jump, eliminate for inconsistencies, and eventually you'll handle enough weight to get sore. Also, if you're only doing a few reps, you won't get sore either, so…take care of that shit (five triples, seven doubles, or 15 singles).

Craig R. says

I know you think Brian Cushing is a deuschbag. But come on! The kid's got a great story coming out of DeFranco's gym in NJ. We can let the stories of PEDs aside, this is an awesome vid:

http://www.nfl.com/videos/auto/09000d5d823f4a30/Sound-FX-Brian-Cushing

"Ain't No Puppies out Here!"
Hey man, what the FUCK? Your argument for Cushing NOT being a fuck head is to send me a video of the Texans beating the shit out of my Browns? God DAMN IT.

Let's look at this objectively though. I don't know his little fairy tale story, but "where he came from" doesn't mean shit when he constantly acts like a fucking idiot. I mean, he headbutted a guy without a helmet on, and he's voted team captain? There's no doubt he's a good player, but I see a video full of un-funny jokes and narcissism. Look, if the black guys don't think you're funny in football, then you couldn't be more un-funny.

John F. asks:
Justin, what is your favorite curl variation?
Dear John (hehe),
Seated machine preacher. Call your parents to pick you up, cause you'll be too pumped to drive.

Dirichlet Says: (from the post that had naked lifting chicks)

BTW is it gay to say that those beach pictures reminded me of…? Nah, nevermind.
Dear Direchlet,
Do you have something so say, son? Say it. SAY IT!1!!