I compiled the results of seven competitors not including me. I expected a few more, but I knew there was only a few non-pussies that read this site anyway. Oh, and domjo54 commented and said that he wanted to do it but didn't think he'd be fair? What the hell, man? You ate two dinners, so fucking what? This better not be the type of jelly dick reasoning you use to not enter a meet or competition. YOU'RE BETTER THAN THAT.

It was funny seeing the difference in people in the post-eating weigh-in. They were lethargic, possibly drunk, and not as lively. Several of them even commented how their math was totally off (mine was too, but because I forgot my previous weight).

Anyway, I did a little filming for funsies. I've never been confused with a competitive eater and only gain two pounds in about 50 minutes. As usual, there's more to the vid for your enjoyment:



Brian AKA criedthefox wins the "Funniest Video Award", hands down. Here is his video:


HarveyMushman wrecked shop and won the Absolute Weight Gain Award by gaining 10 pounds in 4 hours (222.6 to 232.6). Despite being larger than most of the competitors, he also gained the most weight as a percentage of body weight (4.49%), but you can only win one award so it goes to someone else. Here's Harvey's vid — his wife is funny and he also throws in a "We're doing it live":


This puts my friend Elliot into the lead with the Percent of Body Weight Gain Award with 4.16%. He was also wearing a singlet.
Pre-eating (since he is like Stroup and can't use technology correctly)
Post-eating

The shortest pre/post weigh-in was accomplished by Thomas Wywrot, and he gained 5.4 pounds going from 183.8 to 189.2. He wins the Greatest Gain in the Shortest Amount of Time Award. He ate a lot of Ukranian food, which looked awesome. His fiance also hits a front single bi pose at the end. Here's his vid:


Here are the rankings for Absolute and Percent Weight Gained (everyone didn't record times, so I'm not ranking it):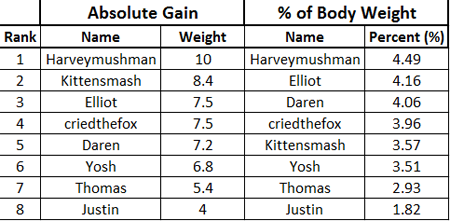 Other notables are:
Daren, who sharted while squatting that morning and has a nice Movember stache. He also recently cleaned up his body composition amidst getting stronger but that didn't stop him from gaining 7.2 pounds and 4.06% BW.

Kittensmash, who almost won funniest video. Watch his first weigh-in (overall, he gains 8.4 lbs, 3.57% BW).

My buddy Yosh would have won creepiest video since we don't see his face and he doesn't talk. He gained 6.8 lbs and 3.51% BW.

Thanks to everyone for participating.
To the four winners (HarveyMushman, criedthefox, Elliot, and Thomas): Send me an e-mail with the subject "THANKSGIVING WINNER" with what shirt you want and what size. Everyone else refrain from sending me an e-mail and just ask me questions via comments/Facebook/Twitter (more on this another time).