I thought that would get your attention (keep reading). Remember Germany's Julia Rohde? She's a 22 year old German weightlifter who made 7th place in the 53kg weight class at the 2008 Olympics (more pictures here and her website).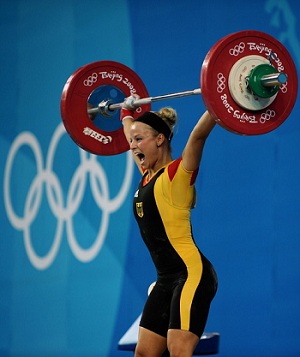 You'll also remember Spain's Lidia Valentin, but Spain also has another ravishing lifter named Maria De La Puente.
Julia and Maria competed against each other in the 53kg weight class at the 2008 European Championships (Maria would take silver while Julia took bronze).


However, the real reason you're here is because somebody said "nude", and Maria De La Puente has posed nude. She did it to prove the point that female weightlifters are not ugly, muscular goons, but instead embody the female form. The following pictures are NSFW, although they don't show the downstairs mix-up or boobs.

Solo picture
Picture with other weightlifters, holding barbells on the beach

Lest our female readers think this is just an ogling session (they are catching on), this also stands to show that quality lifting won't induce the bulk, and these girls can be display that to the uneducated potential lifter. That was Maria's point anyway, because weightlifting isn't popular in Spain.