70's Big Turns 2
On September 22, 2009, the first post of 70's Big was published and had fewer than 100 page views. The first few posts were named after Chicago songs, and KittenSmash was the first person to comment (second post). The concept of 70's Big swelled after six months of joking around with the Chris, Brent, AC, and Mike — guys that you regularly see on the site (their training logs are linked on the left side bar). I figured the jokes would make an entertaining and educational website, and so started the process in September.

In that first year there was a heavy emphasis on lifting big, eating big, and getting big. Yet, year two saw the site shift into quality over quantity, emphasizing the finer points of programming, diet, conditioning, and even health. As you get more experienced, so should your ability to tweak your program and dial in your diet to lift and look Herculean. And don't forget the committed intensity and fervor necessary to not just achieve, but elbow drop your goals.

This site has always aimed to a) entertain, b) educate, and c) have a fun time doing it. In order to garner and harness your attention, I have to do really weird shit
There is no zealotry in recommendations, only that strategies are derived from a baseline of anatomy, physiology, and the body's adaptation to stress. There is no 70's Big diet or workout. I guess sometimes we make fun of bodybuilding, but usually directed at a bro who is acting like a goober. CrossFit probably receives a jape every now and then, but I'm sure their skin is covered with plate armor made of $100 dollar bills papier-mâchéd together. The point is that this is a community that is open to new people, helps people, and has a good time along the way.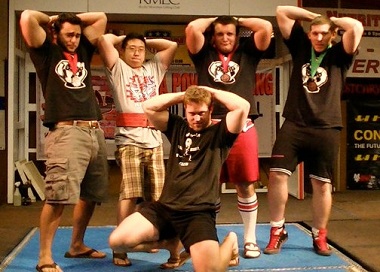 To date, there have been 530 posts, 18,759 comments, a conservative estimate of 4,250,000 total page views, and lots of good memories. Through this site I've interacted directly with hundreds, and probably a few thousand people. Everyone I interact with, American or otherwise, are always fantastic people (see this post). I wish that I had the time to talk with all of the top blokes, but it's hard to keep track of everyone. If you have sent me a message or an e-mail and didn't hear back from me, you weren't ignored! I do my best to reply to everything, but a good portion of messages are unread and lost.

In the last year I've started doing the female posts to help get girls involved in training and lifting, 70's Big Workshops (lifting or programming) have increased in frequency (including going overseas to Australia), I put out The Texas Method E-book, and Dr. Kilgore, Dr. Hartman and I published an applied fitness book called FIT. Some bigger projects on the horizon include changing the theme of the site, creating a new general FAQ, finishing Part 2 of the Texas Method e-book, putting out several smaller helpful e-books to help your training. If you are interested in hosting a workshop or advertising on the site, then shoot me an e-mail.

Thank you to all the guys that have been reading this site for the entirety of its existence like Cloud, Kittensmash, Briskin, Yosh, and I think Cory (Edit: And Mark, Maslow, Ryan, etc.). I'm sure there's more, but I feel like I'm good friends with you guys and I haven't even met half of you in person. Thanks to all of you other regulars on the site; your interaction makes things fun. As for you other creepers who read every day and don't comment, jump on in, the water's fine. I've also recently heard that there is a site (or collection of them) that hate 70's Big? I dunno, if they hate us, then I couldn't imagine ever wanting to train with them. If after a good read through of the content and how this site aims to have fun and help people they STILL hate us…then I'd have to ask, "How much do you fucking curl, sir?"

Most of the readers know that everything is all in good fun and getting extremely butt hurt about disagreements isn't a mature trait. Speaking of which, you guys are allowed to disagree with me and discuss various topics. There is a lot I don't know and I freely admit that regularly. Philosophically an argument is a discussion about a topic, and society is almost incapable of achieving that these days without getting pissed off. If you act like a dickhead, I'll treat you like a dickhead. But feel free to question the things that I say (when relevant, don't get all Socrates on me), and maybe it will help both of us learn.

There aren't too many internet communities that aren't a pain in the ass, and I thank the seven that this community is one of the cool ones. We wear tank-tops and flannel, press women and animals, and drink red wine. Come at me, bro.