Every day millions of people are doing silly-ass shit in gyms across the world. One of these things includes wearing Vibram Five Fingers to the gym. For those of you who aren't Californians, CrossFitters, or the outdoorsy type, they look like this: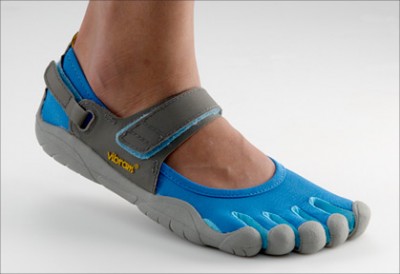 I'll point out that most people think that these things are…not straight. I can see how they'd say that, but they are useful for outdoorsy shit like rock climbing, kayaking, or wearing to the beach (I know because I was gifted a pair, and I have worn them doing these things).
Edit: When I tried explaining this to my girlfriend, who hates the Vibrams, I said, "Well, they are useful for some things–" She interrupted me and said, "What? When you want to put your toe in someone's ass?"

Some people wear them for running (those people are vegetarians or have other unrewarding characteristics such as — and this is a direct quote from my girlfriend — "armpit hair or a huge bush"). I think that wearing them for running is taking the "functional" shit way too far, not to mention running in them is clearly less safe (consider the environment, and accept the fact that the vast majority of people can't POSE correctly).
"Ohhh, but what about the functionality of aborigines running properly?"
Yawn.

Look, POSE running is good and more efficient. Getting all crazy and doing it in Vibrams indicates you don't have anything else important to do. Does Brian MacKenzie wear Vibrams when he races? No. He doesn't.

More importantly, Vibrams shouldn't be worn to workout, ESPECIALLY when lifting. Jesus, I see people wearing them to squat in and it makes my teeth hurt. When I see them attempting the Olympic lifts, I have a seizure on the spot. "Functionality" isn't about trying to do things like the australopithecus did "because we evolved that way". Functionality is a by product of getting strong, and to get strong efficiently, you wear appropriate footwear. You can run into a host of foot problems by stupidly wearing the Vibrams to lift in. Not only is getting injured not a sport, it's not fucking functional either. If some shit head can only squat 250 wearing Vibrams, and this other not-so-shithead can squat 450 by wearing a belt and shoes — both of which will help make him stronger, a trait that directly contributes to real world events — then he is much more functional than the first guy. And if he isn't conditioned from a respiratory/vascular perspective for the "worst case scenario hysteria people", then he can get more conditioned faster because he is strong.

Vibrams Five Fingers are horrible to lift in. If some fitness ass-burger is telling you otherwise, then you now know they are a burger made of ass. Mechanically they create more problems and don't solve any, injuries are prevalent (hey, let's jump and stomp our feet without shoes on with an additional 100+ pounds in our hands — good idea, right?), and they don't have any merit for optimal strength training. If any of you wear Vibrams, then you should have the money to spring for a cheap pair of lifting shoes. Save the Vibrams for what they were made for: wearing them outdoors when no one is looking.