Donate
I started this site in September of 2009 and have aimed to entertain and educate readers. The site has existed completely for free during that span, and I hope you've gotten something out of it. Things are a little tight financially right now, so if you are willing to donate a few dollars via the PayPal button below, it would be very appreciated.
No donation is too small, and again, I appreciate it very much.

Projects
I'm working on some projects to further your education and entertainment. One version is a short podcast of interviews with various people, whether coaches or trainees. Another project is a writing project that will help at least 75% of you in how you program and train. New t-shirt designs will also be released today (I'll update in this post) and completely new t-shirts will also be on the way. There's a lot to be excited about if you're a fan of 70's Big.

In the mean time, amuse yourself with this video of Bjorn from Sweden:

Reality Shoveling & Cleans from Björn Uddenfeldt on Vimeo.
Question of the Day
What's better: fried chicken or barbecued chicken?

New Shirts
There are two new shirts available on the 70's Big Store. The first is a new version of the brown Throwback shirt, now reprinted in navy. It looks sexy.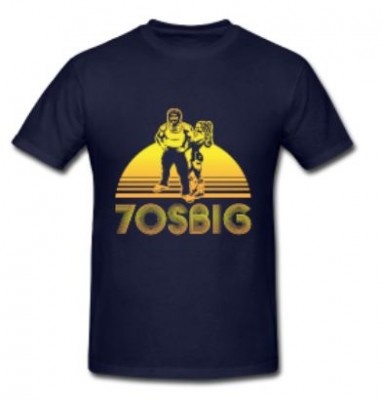 [/caption]

The second places the Reckless shirt on a red shirt — the color of blood and rage.


Both shirts, as well as all of the others, are available in standard heavyweight and American Apparel shirts. Be sure to check both pages on the
STORE
for all of the shirts.