I don't really need an engaging intro today because I already know that talking about conditioning gets you wet and bothered. Strength is a little more abstract, something you have to follow for a while to get gains. Gaining and losing strength is a slower process. Gaining and losing conditioning happens within days. And you fucking love talking about it.

My friend Johnny Pain from Strength Villain knows you fucking love it, so he put together an e-book that contains 50 conditioning workouts that are Greyskull approved. Interestingly enough it's called "50 Greyskull Approved Conditioning Workouts for the Modern Viking".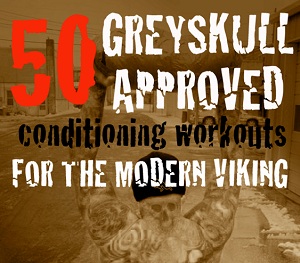 There isn't any fartin' around in this book. You get a quick intro on some fundamentals, and then it jumps right into the 50 workouts in no particular order. Each workout has a description and pictures that help explain what is going on or what movement is being done. The fan-favorite Bony makes a self-deprecating appearance throughout the workouts. There are plenty of interesting captions such as this one that references Bony doing a tuck jump: "Bony could teach Buffalo Bill a thing or two about 'the tuck'."

The workouts aren't difficult, and that's the point. In order to be Greyskull approved they need to be simple (after all, Bony is doing them) yet hard hitting. One example is the 400m run, 100 kettlebell swings, followed by another 400m run. Simple. Tough. Efficient. Testicle building.

You can buy the book HERE from StrengthVillain.com.