I was talking to someone yesterday about her Olympic lifting programming and the subject of "clarking the bar" came up. Not many younger Olympic lifters even know what "clarking it" even means. I found former US Olympic Weightlifting Team head coach Jim Schmitz's story on how the coin was termed (LINK).

(On a side note, I like reading most Iron Mind articles, particularly the older guys who talk about lifting in the early days. There are interesting stories and solid pictures. A small portion of each issue consists of irrelevant or silly shit, but each issue is interesting nonetheless).

To summarize, Ken Clark was a pretty good American weightlifter. However, in the 1984 Olympics Clark pulled the bar to belt high and let go. Twice. In retrospect, Ken will laugh about it nowadays, saying, "Hey, I've got a lift named after me." But the reality is that he bitched out. I don't mean any disrespect to Clark — there are a million factors that could have played into him clarking the bar — but it is what it is. I've coached people who clark the bar, and I hate it.

If a lifter allows themselves to quit on a pull in training, they develop a mental safety net that lets them quit on the lift whenever they doubt it. This self-defeating mindset can cause problems in a meet or any other PR situation. Do not ever clark the bar. You'll let yourself think that it's okay, and it never is. If the weight feels heavy or uneven, your foot or grip slips, sweat drops into your eyes, or someone walks in front of you, you must continue to explode at maximum capacity and make the lift. Conditions won't be perfect in a meet. I'll remind you of my bungle-fuck at nationals when I looked below the judging table, altered my gaze, thus my head angle, and clocked myself in the chin on my opening clean and jerk. Avoid "clarking it" like the plague.

Every single rep in weightlifting has to be a volitional explosion of recruitment; you can't half ass any of the reps. If you sense that something is wrong with your first pull, then crank the fuck out of it on your second pull and take a shot at it. There is nothing worse than not trying at all, so don't let yourself even consider the thought of quitting a rep. Nothing is more sickening than not even trying. Teach yourself how to be mentally tough by not clarking the bar.

______

Below is a picture of some fuck-head showing a fitness version of a clean pull. When a lifter clarks the bar, they'll typically get to the point that the fuck-head is in the picture; they'll get the bar higher than a deadlift, but not really attempt the second pull. I'd much rather someone crank the second pull and take a shot at finishing the lift — you know, actually trying and shit.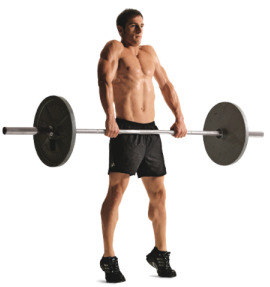 Edit: Brent found another.