Edit: I didn't preview the post and the formatting was all jacked up. Woops. I'll put the blame on what is apparently the flu that I came down with yesterday.

I get a lot of e-mails from guys that are in the service, and they usually have some unique circumstances. Some times guys want to get stronger while keeping their bodyweight in check because of annoying regulations. Some times they need to get ideas on programs that don't have access to a typical training facility. Other times they just want to get bigger and stronger and have the room to grow. In any case, it's always a pleasure to help them (I enjoy helping people in general).

I got an awesome e-mail recently from a Captain in Afghanistan. It was deadlift day for the group of lifters that includes some "runners that have been converted over to lifting". You have to admire their intensity — they don't fuck around.



These are the guys you want to go fight for you. Luckily they got to finish up with a meal of fried chicken, ribs, and mac and cheese. God bless America.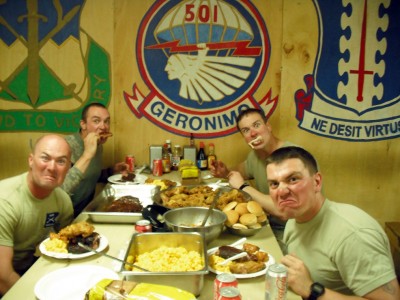 I wonder if they got to have any beer with that. I'd like to drink beer with this bunch.
———-

Here's 1LT McGraw out in Iraq training hard on a linear progression.

I've coached and worked with lots of military personnel and they are always a joy to be around (one of my best friends is an AF guy). All you deployed guys take care out there.