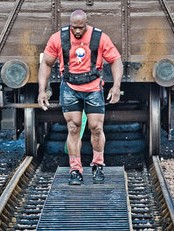 I founds Mark Felix's YouTube channel on accident and the video that caught my attention was a "rehab deadlift" at 340kg. The info said, "Should be back up to 400kg next month." Good god. My interest was piqued.

Felix, as he likes to be called, is one bad mofo. He's 6'4″, around 300 pounds, has 21.5″ arms, and 31″ thighs. The former bodybuilder began competing in strongman in 2003 at 37 years old and is a regular entrant for the World's Strongest Man competition. He also is a two time World Champion in the Rolling Thunder competition with a one handed lift of 301 pounds on the fat, rotating handle. That's 26 pounds more than the second highest ever.
I don't know much about Felix aside from the fact that he's a large, strong behemoth who was born in Grenada and now lives in the UK. He seems to be a really cool guy; he's married with kids and is always smiling or giving a thumbs up at the end of his videos.

This is probably my favorite video of Felix. He's training his grip, and he picks the implements up and stands there kind of awkwardly. What he does next made me laugh.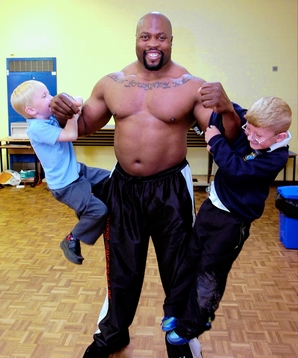 Over the last two days I watched all of Felix's videos. His brute strength and power is amazing and he trains with intensity in everything he does. These qualities have helped him come in 4th in the World Strongest Man competition (2006, 7th place in 2007), win the aforementioned Rolling Thunder competition twice (2008, '09), as well as place in the top three of various other strength competitions such as World Strongest Man Super Series, Europe's Strongest Man, All-American Strongman Challenge, Britain's Strongest man, IFSA British Championships, England's Strongest Man, etc.

To appreciate his shear gargantuan size, watch the following atlas stone video. You'll notice he routinely competes in a kilt (and was excited about a new kilt arriving in the mail on his Twitter page).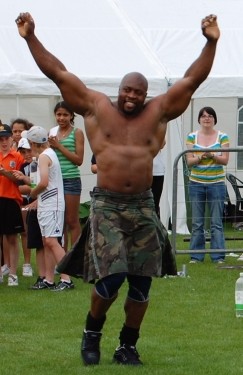 Felix only puts out one kind of effort when training: MAXIMAL. Two videos in particular display this very well. The first video consists of strongman training — barrel tossing in particular. Felix makes short work of tossing 10 kegs over a height of about 10 to 12 feet. The second video pits Felix against another super heavyweight Highland Games competitor in the pole push. No, perverts, it isn't a "no homo" situation — it's kind of like sumo wrestling, but instead of pushing the opponent, the hold and push against the same caber. Felix and his nemesis battle it out for an entire minute. It's exhausting to watch.

Mark Felix is still going strong at the age of 44. He sets a good example by training hard, being massive, and being a nice guy. I hope that he has many more competitive years ahead of him. You can read more about his training and diet here.