The TL;DR of this post can be summed up in this vid (if you just want the good stuff, skip to 3:10)


As of this writing, we have raised $3,922. The goal is $5,000. I'm not above wearing a speedo to raise some doll hairs, but only if we eclipse the 5k mark. Here is what a few of us are doing. If anybody else wants to get in on the donation festivities, put it in the comments. Here are the top raisers in the team. I'll remind you that the best raiser not named Jacob will win cash and prizes.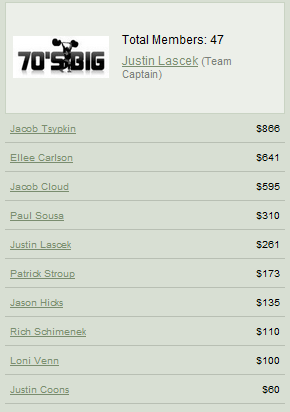 Justin's Money Raising
I will be doing one clean and jerk for ever $50 raised starting from the amount when I announced it ($2,700) till the end of the month. So far I have 24 reps to do. I originally said I was going to do 300 lbs, but that may have to change if it gets around 50 reps. I'll probably do as many as I can at 300 and go from there. I'm not doing them in a row, but instead spacing them out. I'll probably stream the event as well as record stuff because I'll be doing it at a local CrossFit. Also, if we reach $5,000 I'll do it in a speedo.
Find the 70's Big team here.

Jacob's Money Raising
Jacob is going to do a max set of squats at 315. He'll take pledges for "amount of doll hairs per rep" prior to the set, and when he finishes, the pledging donators will pay their pledge x reps. All of Jacob's efforts are dedicated to his friend Mike Gardner who died of brain cancer. Rest in peace, Mike.
Donate to Jacob here.

Paul's Money Raising
Paul said that if he eclipsed $300, then he would watch a Twilight marathon. Jesus Christ. I would never agree to that. I'd rather do a 12 mile ruck in the middle of summer. He's going to record his thoughts and I'll put them on the site after.

Paul is also going to do a max rep set of whatever value he raises. Right now he's at 310, so he'll add $5 and do 315 for reps if he doesn't raise anything. If it gets over $440, he'll attempt a new PR as 440 is his current best.
Donate to Paul here.

Stroup's Money Raising
Stroup is doing a squat-a-thon type thing where you can purchase a squat rep with $2 donation. He will also shout whatever obscenity or phrase you want at the top of the rep if you clarify with your donation. He's up to 12 reps.
Donate to Stroup here.

If we don't raise $5,000, then you'll have to see Jacob, Stroup, and Paul in a speedo. I didn't ask them, and Paul said, "I am far too hairy to don a speedo in public. It would look like I was smuggling Snoop Doggs afro in my shorts." If we raise 5k doll hairs, then they are off the hook for this.

Bill's Money raising
Bill Clark is a martial artist and breaks things with his hands. If you donate 10 to $20, he'll break a brick with your name on it. If you donate $21 or more, he'll break a coconut with your name on it (he'll be breaking them with his hands). He'll video them and upload them to YouTube and I will post them on the site.
Donate to Bill here.

Every doll hair counts, even if it's just a few. Thanks for your donations.