You may remember my post on The Killustrator. Well, he's got some pretty sweet posters, shirts, and pictures. If you buy anything on Killustrated.com and enter the code "70BG", you can get a 10% discount on orders over $25. That should help you save some doll hairs while getting the newly available shirt, "My bar is my therapist" (pictured below).

———-

Congratulations to Colin from Denton, TX for winning the Mustache's of May contest. You all may know him as…# 11.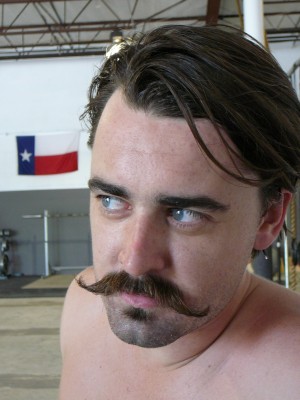 June's picture contest will be "Best Before And After". If you found the site when you were skinny, well, you shouldn't be skinny anymore. We'd like to hear about (and see) your improvements. You can submit pictures to 70sBig@gmail.com for this contest. Thanks for all the mustache dudes for participating, and I want to sincerely apologize to Frankie for him not getting voted into the finals. That was a solid handlebar.

I'll put a new sticky up for June, and Gant will probably have a new challenge ready.

There won't be a June Challenge because I don't want to interrupt training two months in a row. We'll reconvene in July. In the meantime, keep the grill hot and the beer cold. If you're not the designated kid-thrower at pool parties, you've done something wrong. -Gant

———-

I love this video of Ricky Bruch. I just thought you all would need to see it again.